Happy Thanksgiving, everyone! This week's Phone Home features Shanna Gratton, an equal parts nerd, DJ, and dog lover who is doing her part to make Fargo 1000 times more awesome than it already is. Also, her dog is named Phil Collins – I mean come on!
Against All Odds, she showed A Groovy Kind Of Love in sharing her homescreen with us all. It's just Another Day In Paradise here on 'Phone Home'. (Sorry not sorry.)
– Kyle
You
What's your deal?
Former Minneapol-itan, I'm now back home(ish) in Fargo, North Dakota and spreading the word about what a great place it is. Seriously, you need to come visit because Fargo is great. I work in IT and do my best to bridge the gap between super technical fun and end users. My husband is an instructional technology specialist and I have a dog named Phil Collins and she's the cutest thing ever.
---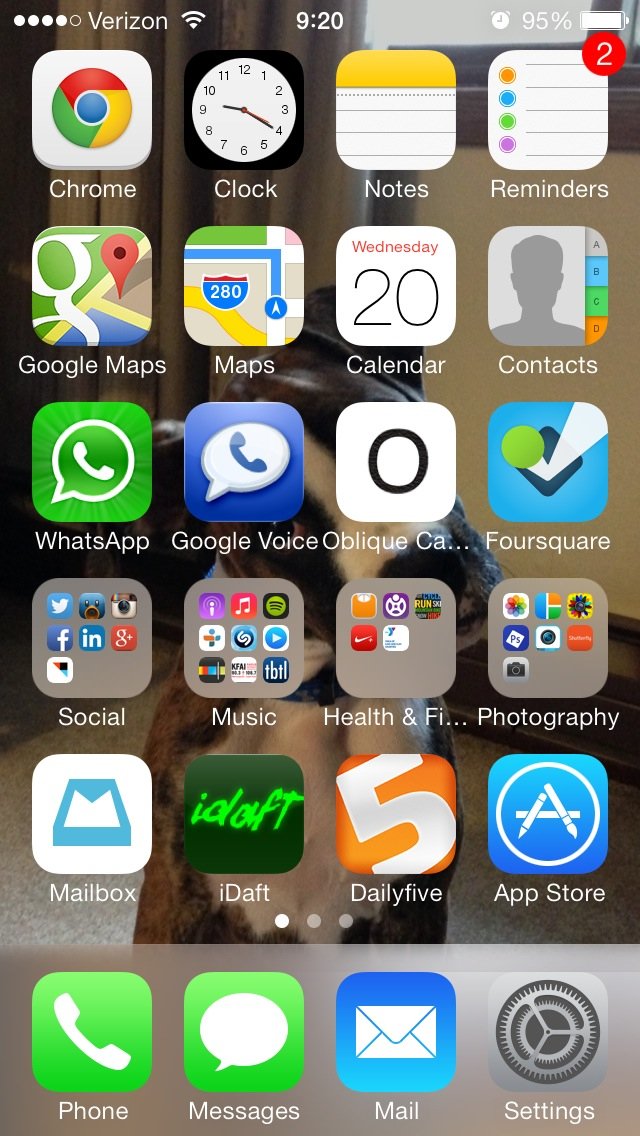 Your Phone

:
Model

: A sexy black iPhone 5

HD Size

: 32GB (which is nearly at capacity all the time)

Wireless Carrier

: Verizon
Your Apps
Do you have a philosophy behind the apps that you use, or the place/order that they exist on your phone?
My philosophy for app organization is keeping higher use apps to the outside as I have small hands and then can use one hand easily. The fourth row is reserved for folders of some of my heavy use categories: Social, Music, Health & Fitness and Photography.
But of course, there's always the iDaft on the homescreen. Every now and again you just want to dance around and pretend you are Daft Punk. Duh.
What app/s do you use the most? Are there any that you could not live without?
Mailbox – My email management has gotten noticeably better when I can snooze emails to when they need to be handled.
Tune-In Radio – For the radio/music obsession near you. Listening to a High School football game in another state or a radio station from halfway around the world have been some golden "I love the internet" moments.
Oblique Cards – Real Oblique Strategy cards are expensive, so until I hit a windfall to get a set that Brian Eno actually touched, this suffices to help me find my deep thoughts when I need help.
Dropbox – If your phone is the only camera you have/use and you don't have Dropbox, you're silly. It's an easy way to make sure photos are backed up.
WhatsApp – The best way to text internationally. Though I only use it for a specific few friends, I'm very in love with the functionality.
Google Voice – Text from a computer or a phone. GV is my favourite. CrashPlan – Until I needed a document from my home computer at a moment's notice, I didn't fully appreciate how awesome this app/program is.
Are there any apps that you use all the time, but secretly don't want to admit to?
The native Twitter app. I dearly miss TweetDeck and haven't yet found anything that replaces the functionality that I loved. Also, Bejeweled & Bejeweled Blitz. It's my CandyCrush.
How many apps do you have installed on your phone?
85
Do you change your home screen layout often?
Not all that much. I change things a bit when I travel to put relevant apps on my home screen. For example, I'll take Twitter out of a folder, or put Uber, Glastonbury or any other relevant apps at easy access.
Tell me about your home screen wallpaper. How about the lock screen wallpaper?
My lock is one of my engagement pictures. My then boyfriend, now husband, went to Davy Rothbart's My Heart is an Idiot book tour in Minneapolis last year and he ended up getting called up on stage. So, clearly we needed to memorialize it. If you want to hear more about how it went, you can hear Davy talk about it here at about the 11 minute mark here.
How are your other screens organized?
I keep things to 3 screens total. Home screen is where the important stuff is. Second screen is where the semi-important stuff is, but also things that I don't want dominating my life so it's mainly shopping and games. Third screen is occasionally important stuff and the In Memorium area. These are things that I likely should delete, but I can't for whatever reason. The most recent mainstays are my wedding folder and TweetDeck (RIP).