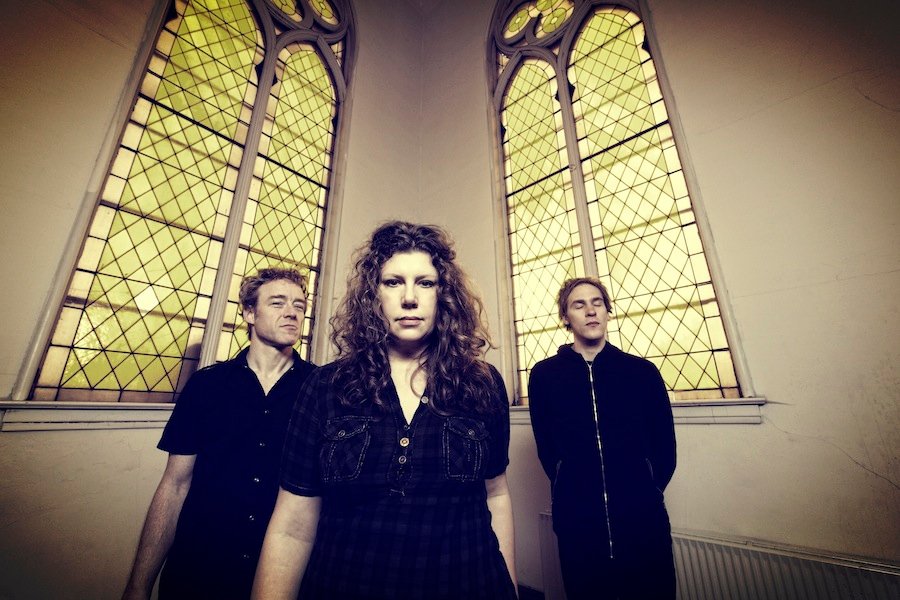 This past Saturday, Duluth band Low created a bit of a stir at the 2013 Rock The Garden festival. Attendees (of which I was one) had just endured a serious gully-washer of a rainstorm and the first of the festival's five acts, Dan Deacon, had elected to perform his set in the adjacent parking garage, where many of the attendees were hunkering to wait out the storm. As we walked out to a soggy, still-gray afternoon, there was Low, who proceeded to play a 27-minute-long version of their song "Do You Know How To Waltz" (from their 1996 album The Curtain Hits The Cast), and left the stage.
To say that many in the crowd were not impressed would be a rather large understatement. Some were furious, some were confused, but precious few in attendance were appreciative. The bad feelings were magnified by a sense in the audience that the band were purposefully refusing to interact with them and were in fact even angry at them. In the days since, this has been quite the conversation piece around the Twin Cities, and I feel compelled to post a defense of the band and their choice.
My personal bias: make no mistake about it, I am a fan of Low. Not a "since the beginning" fan (I was turned on via a then-girlfriend around the time The Great Destroyer was released, fell in love, and went back and happily devoured their earlier releases – I'd known who they were, but didn't get into them right away), but a fan nonetheless. Moreover, I'm a fan of the song they played – which song they're known to play in live settings and furthermore to jam out on for extended lengths. I don't claim to be impartial.
Now, here's my defense:
Setting: In an interview with the Star Tribune, Alan Sparhawk explained that the setting of the performance affected their choice. "It was just kind of a weird atmosphere, people coming in during the rain, not really knowing where to go. And then we found out our set had to be a little shorter than planned, to get the schedule on track." I can vouch for the weird atmosphere. My wife and I were certainly a little salty, having braved the majority of the storm only to be told "Oh, Dan Deacon's doing his set in the parking garage" mere moments before that set began. The area he was performing was of course utterly packed by the time we sloshed inside, so we waited the set out on the far end of the parking garage and then found ourselves rushing back outside to catch Low's set (we couldn't hear any announcements in the garage). Once outside, it was clear that much of the crowd was either still inside the garage or milling around getting food and drink. Only a few folks were in place to watch Low, and the vibe overall was just…damp. And a bit grumpy. It was an odd scene.
As to the truncated set length, I've read many opinions along the lines of "So what? That's no excuse." I don't see it as an excuse, and as someone who has labored over setlists, I can attest to how having to trim a set can be challenging. Instead of cutting a few songs and changing the feel of the set, they opted to do something different. Per Alan, "…we decided to try to do something beautiful."
Ballsy choice, that. And one that, for many in the crowd, didn't pan out well. And really, if the complaints were simply "Wow, I didn't enjoy that" I wouldn't be writing this at the moment. As fans we have the right to react honestly to artists' choices, and to voice that reaction. I'm writing this in response to those who have suggested that the band insulted them, broke some pact, or actually cheated them.
The Artist's Responsibility: The question of what an artist owes their fans is a very old one, and one of the most divisive issues in the arts. Predictably, what side you fall on is often determined by whether you are a patron or an artist. When people pay for something, they have expectations as to what they'll receive, and that's as it should be. And when an artist creates art, they want to do so without constraints – also as it should be. Obviously, though, those two expectations can sometimes be at odds.
I consider myself to be an artist and a musician. Whether that's fact or conceit is not for me to determine, but that's how I see it. So I understand the desire – no, the need – to create art that is self-satisfying. I can't entertain you if I hate what I'm making. I'm also a fan, and I can tell you that the 13-year-old me who ran out and plopped my ten bucks down to buy Styx's Kilroy Was Here record was incredibly pissed off once the needle hit said record.
I was also wrong, and here's why: Even back in the early 80s there was information available to 13-year-old me that would have informed me, had I paid attention, that Kilroy was Dennis DeYoung's pet space-rock-opera project, and was also largely unlistenable. But I didn't pay attention, I made an assumption. I liked Styx's earlier records, they were putting a new one out, and I'd like that as well. Fans make assumptions like that a lot, and, to be blunt, when we do so we're setting up these disappointments for ourselves all on our own.
Would it be fair to assume that if one were to see Low playing an outdoor music festival put on by The Current, one would be treated to roughly 45 minutes of mostly gentle, popular songs? Sure. But it's still an assumption, and one that doesn't take into account that Low have a massively diverse catalog, are known for occasionally going off on long trippy musical tangents, were not given a full slot time due to the weather and the opening act's foray into the parking garage, and were also dealing with an odd scene.
Would it be fair to assert that Low owed it to us to deliver that gentle, hit-filled set, conditions be damned, because we paid fifty bucks to see it? Nope, not even close. If we're going to get down to brass tacks, you paid fifty bucks to attend a festival with five acts, of which Low was but one. All Low owed us, if anything, was to show up and perform, and that's precisely what they did. Moreover, if one is to believe Al (and surprise, I do), they genuinely hoped that they would entertain us with that performance. All Low or any other artist owes us is to make art. We are then free to decide whether we want to hand over some of our time and maybe money to encourage that artist to continue to make more art, at which point that particular circle of life starts over. That's the contract. That's it.
The (alleged) Politics: Given Alan's "Drone not Drones" statement to close the band's performance, I've seen a lot of discussion about the politics of the event. Referring again to the Strib article and Alan's response to that question: "I got it off a friend's bumper-sticker, and thought it was fitting." I'm inclined to take that explanation at face value. It makes more sense to me than the band deciding to piss off thousands of people to make a political statement, at least when that band is Low. It's really not their style.
Once we've all quit bickering about this on Twitter and elsewhere, what it will all distill down to is this: Low made an artistic choice, which was informed by a number of factors, and a large portion of the audience didn't like that choice. And then, somehow, we all couldn't stop talking about it. And about how art works, even how art should work. This possibly ill-conceived decision provoked strong emotions and reactions from both sides, and a healthy, possibly overdue discussion on the nature of art and the relationship between artists and patrons. Twenty-seven minutes of oscillating waves of feedback begat something rather larger.
And that, to me, is what art is all about.