Welcome back! We're at it a little early this week, since we've got the bonus interview section for you on Friday. Last week I talked about my own history with The Glad Version and touched a bit on the legacy of this early incarnation of the band. This week it's all about geeking out over the record itself. As such, I sincerely invite you to use the comments section below and let me know what you think – let's geek out together. Best case scenario, this becomes a fun group-share. Worst case – well, we all know what that looks like. Let's get to it, then.
Details:
Songs:
Empty Houses and Proximity: Empty Houses deserves inclusion for any number of reasons and it blends seamlessly into Proximity. It's as good a first one-two punch on a record as I've ever heard. Quick breakdown: Empty Houses is just a perfect mission statement, as it really shows every facet of the band and lays out the sound of the record. Also, we get a fantastic guitar solo. At this point it seems a good time to call out Chris Salter. Adam: "I love the playing of Mike Michel, Jeremy Ylvisaker, Jake Hanson, Marc Ribot, Bill Frisell, and Geoff Farina, but I would still choose Chris Salter as a guitar player any day of the week." I can't argue with that. And I can't think of a more underrated guitar player in this scene than Chris. He's the author of many of my favorite leads in the past decade or so. Easily. Returning to the record itself, the transition to Proximity is deftly handled, and we're rolling along with a really great, angular power pop song, like the best one of those you've heard in a really long time. And then it decays out and you get…
Cruelty Of Modern Life: Which is really the best any sort of power pop song you've heard in like forever. It's got everything, really – the sudden, compelling rhythm, sharp catchy melodies, and a very clever arrangement. First off, it's that rhythm guitar – slightly fuzzy and full of restless energy. The drums and bass hop into the mix, and we're rolling. And that bass may be the key to what makes this such a compelling tune. It's all over the place, with Shawn essentially playing another, almost accidentally complimentary song altogether. Which is just another example of why this record stands by itself. It's the only one with Shawn on it. Chris: "I really miss how melodic/busy Shawn's bass playing is. I think it worked really well with this group of songs and interplayed nicely with my melodic/busy guitar parts." Again, I'm going to agree. Shawn Neary plays bass the way I want to play bass. Add in some really well-conceived and even better-executed vocal harmonies, and – depending on the day – this is my second favorite track on the record.
'Cruelty of Modern Life (Demo)', The Glad Version
Options and Absolutes: I'll let Adam start this off. "When we finished the album, my favorite song was 'Options and Absolutes' by a landslide. I still think that is the case. To me, this song sounds like it has the "oldest soul" of all the tunes on the record." Personally, I have other favorites, but this is first a fine track and second a wonderful break after the three-song volley that started the record. As with the record as a whole, I'm struck by the attention to detail and all the various little flourishes and bits of ear candy. Chris elaborated on some of those bits: "Options and Absolutes was a blast to record – John played lap steel with tremolo, the crunchy sound of Shawn's bass came from us threading a piece of paper through the strings, and the acoustic slide guitar you hear was tuned down an entire octave." This record was lovingly fussed over, and you can hear it. And while I doubt I know what accounts for a soul in a song, I can tell you it sounds absolutely beautiful.
'Options and Absolutes (Demo)', The Glad Version
Elisabeth: Damn, I do love this song with a deep part of my soul. I don't really know why, but I'll go ahead and start with the chorus. So great. The intro's fun, as well. But really, it's that chorus. I'm not a lyric junky by any means, but from structure to content I just love the lyrics to this chorus, and the music and vocals carry them perfectly. And obviously the band and producer knew what they had, as they had the good sense to serve that chorus to us at least three ways. As I now know, Chris wrote this one – so thanks, Chris. I really love this song.
Hit and Miss: I wasn't going to touch on this one until Adam and Chris both singled it out as the one "miss" on the record. And in one sense they're right – while it isn't easy to nail down specifically, there is an aspect to this song that barely prevents it from sitting in comfortably with the rest. However, when Adam says "it's just so damn catchy, it seduced us!" I absolutely know what he's talking about. It doesn't quite fit, and it hasn't aged as well as the others, but damned if some days that thing isn't stuck squarely in my head. Regardless, if this is the worst a band has to offer, sign that band.
Sand: This one has always toggled back and forth with Cruelty Of Modern Life as my second favorite of the record. Mind you, I didn't know that it was almost the only song Adam wrote on the record, and I sure as hell didn't know that a friend of the band had been killed in an auto accident before they started the recording. I did know that it, from the very first time I heard it, felt huge to me. It's not the lyrics – they're great, but as I said I'm just not really a lyrics nut. Honestly, I don't know just what it is. It just roots up under my skin and I somehow I can almost sense the grief that I now know they were working under. A lot of this can be credited to all that fussing over and caring I mentioned earlier – so let's get to that.
'Sand (Demo)', The Glad Version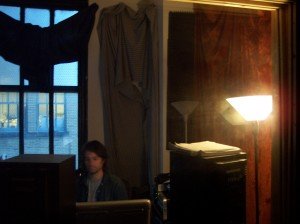 Process:
The band worked with John Hermanson (of, at that point, Alva Star and Storyhill fame) at Johnny Solomon's (then with Friends Like These) studio in the Northwestern building in Lowertown, St. Paul. Adam says "Recording with Hermanson in Lowertown was what made me fall in love with making records. The creative process that happens behind the curtain is such a magical, indescribable thing. It's tiresome, relentless, and maddening, but it's terribly worth it. Trying to get each tone 'right' was a learning experience. Although I'd done some recording in a radio station previously, I hadn't considered the importance of microphone placement when it came to capturing the right timbre of each instrument (including vocals)." Chris adds "I've been a superfan (like, BIG superfan) of John's since High School, and the whole experience of working with him and getting to know him was an absolute dream come true."
They worked with ProTools, though they had plenty of outboard candy to work with, and a nice big 700 square foot space to work in. Per Adam, "They'd built a control booth, probably 6′ X 8′, that was isolated from the rest of the space. The rest of the room was filled with empty beer bottles, old art, miscellaneous instruments (e.g. multiple hammond organs, guitars, etc.), and instrument/recording cables. We built a little temporary booth for vocals, but we ended up ditching it after a while because it sort of 'swallowed' some of the natural reflections of the room. Towards the end of the sessions, we tried to get that room in the recordings as much as possible… it was such an interesting space."
The many and varied guitar tones came primarily from a couple amps. Adam: "For amps, we primarily used Adam Switlick's Vox AC30 and Hermanson's Top Hat (King Royale?… 30 watt, Class A)." That variation in tones came from savvy use of mic placement and again taking advantage of that interesting space. Adam says, "While tracking guitar, most of the time we'd set up the amplifier and the microphones so that the cone of the speaker was 'facing' the open space in the room."
I love the production on this record. It hits my happy place on several fronts. First off are the guitars. This is one of those records where there are very few heavily-distorted individual guitar parts, but there are all sorts of big, heavy sounding parts overall. They achieved this with terrific, tight performances by the players and good old-fashioned recording techniques by the engineers, with some chaotic ear candy to round out the bill. Chris provided a nice example of that ear candy: "The air horn sound at the beginning of my solo on Empty Houses came from my guitar being put through multiple distortion pedals – that was the sound when I wasn't touching the strings, and I found I could change the pitch by turning the tone knob!" Shawn explains things more succinctly: "We were given access to a whole range of instruments that we didn't normally use, and we went kind of nuts. In point of fact, I went kind of nuts."
This is a very "studio" record, in the sense that while the songs could certainly be played live, there was extra care and love involved in the process of making the record itself something special. My kind of record, and I think records are important. Killer live shows are great – killer records can change your life.
As for the role this particular killer record played in the lives of the guys who made it, I sure hope you'll come back on Friday and hear it from them in the interview. See you then!